Svan 977C
Sound & Vibration Analyser
SVAN 977 Class 1 Sound & Vibration Level Meter and analyser is designed to meet the needs of both environmental monitoring and occupational health and safety monitoring specialists. Its exceptional hardware design also enables the measurement of ultra sound frequencies in the 40 kHz band.
The SVAN 977 provides broadband results with all the standard weighting filters and also offers an incredible time history logging capability providing broadband results and spectra with adjustable double (long and short) logging steps.
Audio recording can be performed simultaneously with time history logging as either a separate wave file or as audio events inside time history files. This solution enables noise source recognition and data post-processing. Manual and automatic triggering of audio recording is also available.
Measurement results are recorded in three acoustic or vibration profiles enabling measurements to be performed with 3 different filters (e.g. A, C, Z) and 3 different detector time constants (e.g. Fast, Slow, Impulse). Measurement data is stored on a µSD card and can be easily downloaded to a PC using SvanPC++ software over either USB or RS 232 interfaces.
The powerful DSP (digital signal processor) used in the SVAN 977 instrument can simultaneously operate in meter mode and perform real-time 1/1 or 1/3 octave analysis including statistical calculations. Additional functions like real-time FFT analysis and Rotation Speed Measurement are also available.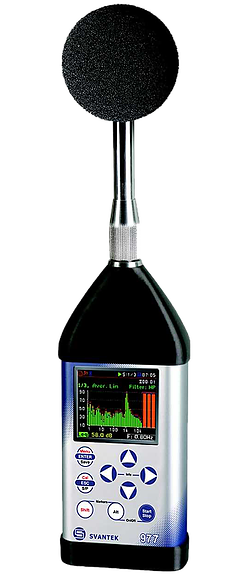 1
Measurement of ultra sound frequencies in the 40 kHz band
2
General vibration measurements (acceleration, velocity and displacement)
3
Advanced Data Logger including spectral analysis